Hello All:
We got stuck in Anchorage for a day. There was a thin layer of cloud over the Anchorage airport - supposedly only 3,000 feet thick, but it was dense enough that we could not see through it - and our aircraft does not have de-ice boots. So, no flying. The staff at Great Circle Aviation (a superb FBO at PANC) stored our aircraft in their hangar overnight. The next day (Monday) was great weather, clear blue skies, and we took off headed west to Russia. The flight from Anchorage (PANC) to Anadyr (UHMA) took 5 hours and was quite uneventful. We departed Anchorage Monday morning, and landed in Anadyr Tuesday afternoon. Here's a picture of the track:
Track from PANC to UHMA
We made kind of a dumb mistake with the SPOT tracking device. This device uses two satellite constellations, the US Department of Defence NavStar GPS constellation to obtain a position fix, and the privately operate Globalstar communication constellation to report position. The NavStar constellation has global coverage, but the Globalstar system does not have complete coverage near the poles. We had placed the SPOT on the right hand (north facing) glareshield (not on the gear leg, as I was kidding earlier), and it could not see the Globalstar satellites to make position reports... hence the spotty coverage of this particular flight.
Before we left Anchorage, we had to load a new terrain database into the Honeywell MK VI EGPWS. This is a Class A TAWS, but the MK VI model only holds one-third of the earth at any one time. Honeywell divides the globe up into Americas, Asia, and 'Atlantic' (Europe and Africa). On this flight, we would be flying off the Americas database onto the Asia database. We elected to load the Asia database before leaving Anchorage. It is pretty easy to do, just connect a little card reader to the EGPWS, stuff the pre-programmed card into the reader, wait 5 minutes, do a TAWS self-test to make sure everything works OK and the new database is loaded, and that's it.
Loading a new Class A TAWS Database
The photo below shows co-captain Frank Harlow. The little device hanging from the power levers is a
pulse oximeter
. We use this on ferry flights to make sure we are not getting hypoxic. It measures oxygen saturation of arterial hemoglobin. All you have to do is stick your finger in it and wait a few seconds. The big number is %SpO2 and the little number is pulse. At sea level, Frank and I both average about 97 or 98%. At 10,000 feet pressure altitude, we average between 88 and 92%. We check our %SpO2 about every half hour, and if we are getting below 88%, we begin to use oxygen. When we have to climb higher than 10,000 feet and MUST use oxygen, we refer to this meter to ensure that we are not using too much oxygen (wasting the stuff) or flowing too little (not getting enough). We try to keep our %SpO2 around 90% when we are using oxygen. It is a really neat little device, and it provides a lot of peace of mind at higher altitudes.
Enroute
The Pulse Oximeter in use
The scenery is really quite spectacular in Alaska - below is a photo taken between Anchorage and Nome.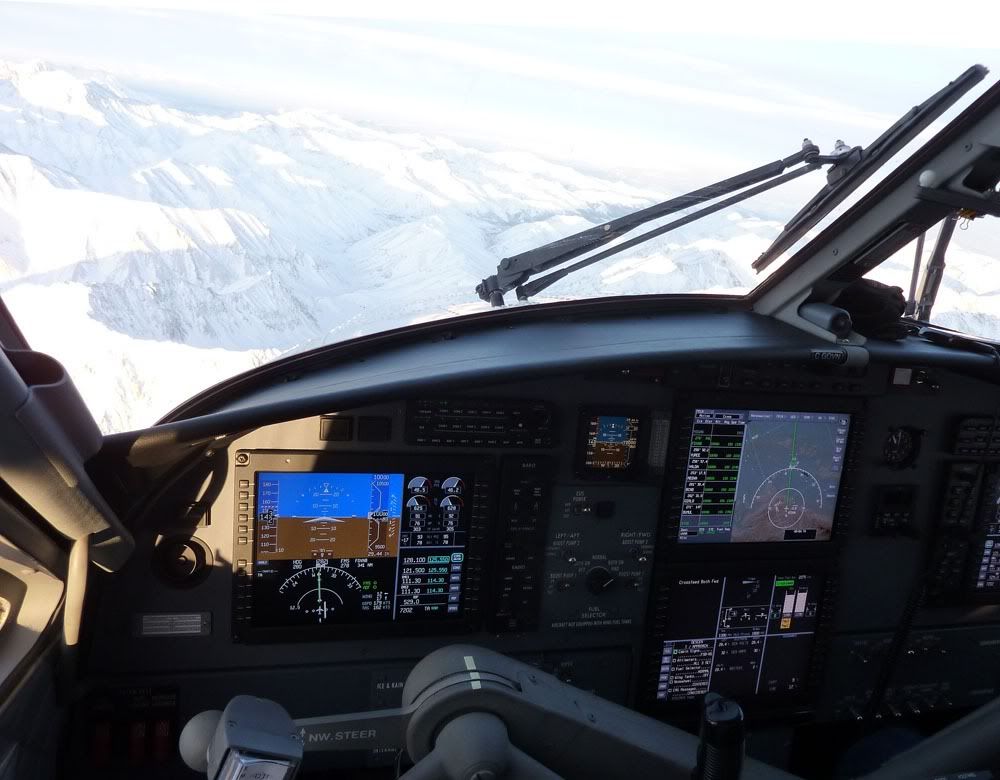 The back of the plane is full of fuel tanks (and food!). This is a 9 barrel ferry system, installed IAW the de Havilland drawings for new aircraft delivery. It holds about 3,000 pounds of usable fuel. With the standard fuselage tanks and these barrels, we can carry 5,500 pounds of fuel. This is enough to travel about 1,300 nautical miles with IFR reserves and a comfortable route reserve. Because the Twin Otter flies quite slowly (about 165 knots TAS), upper winds can play havoc with range, so, we like to carry ample reserves and generally not plan legs longer than 1,400 NM.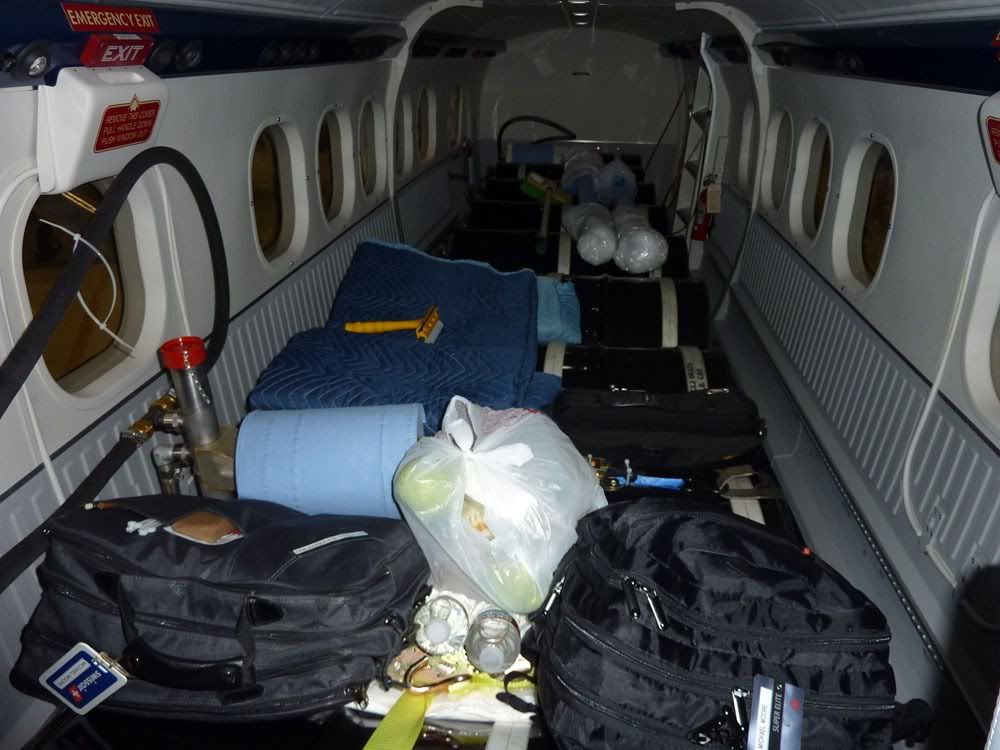 More to follow tomorrow.
Michael