Moderators: lilfssister, North Shore, ahramin, sky's the limit, sepia, Sulako, I WAS Birddog
Rank 4

Posts: 220
Joined: Mon Feb 05, 2007 10:06 am
Location: At your mums house!
---------- ADS -----------

---
I have a cute little model of this plane :3
---------- ADS -----------

---
Rank 10

Posts: 2105
Joined: Fri Sep 17, 2010 7:44 pm
PLAYBOY ENTERPRISES DC9-32 C/n # 47393, L/n # 458, N950PB .... otherwize affectionately dubbed "The Black Bunny" ! The aircraft visited YYZ in the 70's with Sonny and Cher.
This aircraft became the first ever executive configured DC9 when it was ordered, on July 9th 1969, by PLAYBOY magazine publisher Hugh HEFNER .... in a contract valued at some 4.5 million dollars.
An additional 1 million dollars was spent on the aircrafts lavish corporate black and white executive type interior appointments .... designed by Daniel CZUBAK and installed by Pacific Aeromotive .... and among which featured an on-board bedroom suite complete with a 6X8FT elliptical bed, and a separate shower facilities, in addition to capacity for up to 36 VIP PAX.
This aircraft was also equipped with belly fuel tanking which provided an additional 1,780 gallons of fuel, in addition to its wing tanking, and promoted trans-Atlantic range.
This aircraft was eventually delivered to PLAYBOY ENTERPRISES on February 24th 1969, but, did not enter service until early 1970.
It was first operated and maintained for PLAYBOY ENTERPRISES by PERDUE AIRLINES, and then later by OZARK AIRLINES, and was also occasionally chartered by other parties.
Under utilized .... accumulating only some 1,341 hours as an executive transport, PLAYBOY ENTERPRISES, facing fiscal under achievement during the mid 1970's, were eventually forced to sell this aircraft .... to OMNI AIRCRAFT SALES/BROKERS.
This aircraft then saw service with LAV AEROPOSTAL (YV-19C) from April 1976 until November 1979. It next entered service with AEROMEXICO (XA-JEB) from June 1979 .... and remained with the airline until August 2004 when it was ferried to Guadalajara for storage. During 2008 this aircraft was dismantled and moved to Cadereyta/Queretaro, Mexico for display in a theme park.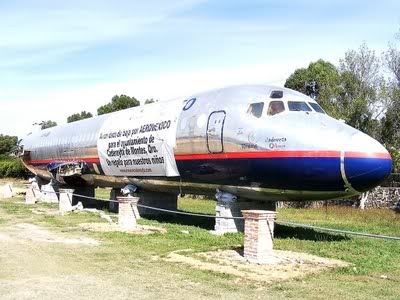 ---------- ADS -----------

---
Instead of paying megabucks for the latest version of a corporate jet - many tens of millions of dollars - an intruiging option is a used airliner. Just because it is no longer competitive for an airline to operate on a particular route with a certain number of seats, doesn't mean that it wouldn't make a kick-ass corporate jet, especially given the low utilization of many corporate aircraft.
Strip the paint & shoot a new coat, rip out all the cattle-car seats, and do up the interior - my personal taste would run to a shag-carpet Austin Powers theme. Might need to upgrade the avionics, depending. Need a strong APU for air conditioning on the ramp.
IIRC both John Travolta and Bon Jovi fly retired B707 ... didn't Bon Jovi run off the end of the runway at hammertown in their B707?
Anyways. Has anyone else done this? I suspect that runway length and noise abatement concerns might a consideration.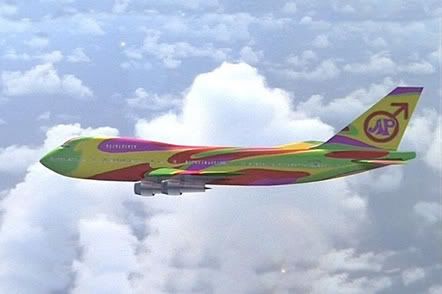 ---------- ADS -----------

---
Top Poster

Posts: 7969
Joined: Tue Apr 15, 2008 12:25 pm
Location: Winterfell...
bizjets101 wrote: This aircraft was also equipped with belly fuel tanking which provided an additional 1,780 gallons of fuel, in addition to its wing tanking, and promoted trans-Atlantic range.
I remember hearing that they could not fill the wing tanks to capacity, owing to the black paint making the fuel expand too much and go out the vents.
---------- ADS -----------

Geez did I say that....? Or just think it....?
---
Rank 6

Posts: 430
Joined: Wed Sep 30, 2009 7:30 am
---------- ADS -----------

Kowalski: Sir, we may be out of fuel.
Skipper: What makes you think that?
Kowalski: We've lost engine one, and engine two is no longer on fire.
---
I was ramp rat for Atlantic Aviation in YVR back in the day and this DC9 came in with Crosby Stills and Nash.
I went to the concert that night and next day had Cosby and Stills in my company station wagon, I to remember they had blood shot eyes and were missing one guy, Nash maybe, and I drove them around for a bit before takeing them to the Black Bunny. I think they tipped big.
---------- ADS -----------

---
Rank 11

Posts: 3619
Joined: Mon Feb 16, 2004 2:33 am
Location: YYC 230 degree radial at about 10 DME
You still can't beat Ed Force One for a cool machine and paint.
---------- ADS -----------

---